Nestled in one of the South's most historic neighborhoods, the Garden District Bed and Breakfast is a beautifully restored Victorian home.
Built in the late 1860's, the home is rumored to have been a brothel during the 1920's, but today it's a comfortable four-suite bed and breakfast.
The formal dining room and living room are available for all guests to use. Read our books and brochures about New Orleans or use the computer with printer and internet access.

During your stay we invite you to wander aimlessly through the historic Garden District and enjoy the beauty of antebellum mansions tucked between the rows of ancient oak trees. Our neighborhood boasts special places of interest such as Lafayette Cemetery, Commander's Palace Restaurant, and the former home of novelist Anne Rice.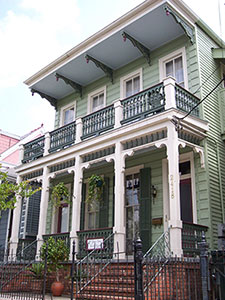 Magazine Street ( www.magazinestreet.com ) exhibits New Orleans' finest antique shops, galleries and cafes. Dozens of great restaurants are only steps away from our door.
Enjoy the best of New Orleans nightlife in the world famous French Quarter! Garden District Bed and Breakfast is less than two miles from Bourbon Street….close enough for a quick ride by cab or St. Charles Streetcar.
The Magazine Street Bus conveniently stops on our block. Ride it either to the French Quarter or to Audubon Zoo and Park.

Each of the Garden District Bed and Breakfast's suites offer a unique feature. Choose a room with a balcony or courtyard. Some rooms sleep up to four guests comfortably. Click on the "Rates and Reservations" link at the top of the page for detailed descriptions.
Our rooms have:
Private bathroom
Wireless Internet
Queen bed
Cable TV
Southern pine floors
12-foot ceilings
Refrigerator
Coffee maker
Hairdryer
Alarm clock
A/C and Heater
Individual climate control
Iron/ironing board
Microwave
Bottle/Wine opener
Toaster
Ice
Utensils and Dinnerware
Shampoo/soap/lotion
Free on street parking
French Quarter/Bourbon St - Less than 2 miles.
Cruise Line Terminal - Less than 1.5 miles.
Superdome/New Orleans Arena - Less than 2 miles.
Morial Convention Center - Less than 1.5 miles.
Harrah's Casino - Less than 2 miles.
Tulane and Loyola Universities - Less than 3 miles.
Audubon Zoo - Less than 3 miles.
Aquarium of the Americas - Less than 2 miles.
Rates vary upon season and availability.
Garden District Bed and Breakfast is committed to furthering the accessibility and usability of its website and will be using the relevant portions of the World Wide Web Consortium's Web Content Accessibility Guidelines (WCAG) to guide its compliance. The relevant portions of the WCAG will serve as our primary web accessibility standard, though other standards may also be used to provide accessibility to the extent required by the Americans with Disabilities Act (ADA).
Please be aware that our efforts are ongoing. If you have specific questions or concerns about the accessibility of any particular webpage on www.gardendistrictbedandbreakfast.com, please contact us at magazine2418@gmail.com or +1 504-895-4302. If you encounter an accessibility issue, please be sure to specify the particular web page in your email or phone call, and we will make all reasonable efforts to make that page accessible for you.